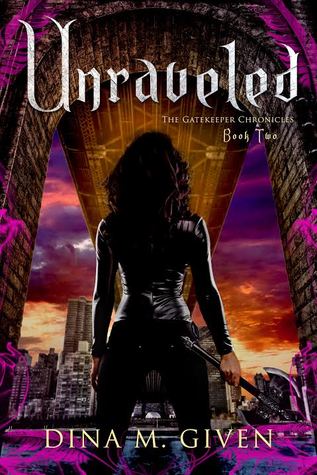 "Hope could change the tides of war and save the souls of men."-Emma
Unraveled
is the second book in The Gatekeeper Series. Dina Given offers up another supernatural mix of mysterious creatures, heart stopping action, and a constant undercurrent of romance to keep your blood pumping the entire read.
As
Unraveled
begins, Emma (Ashnan) is still recovering from the mighty battle that took place in the conclusion of
Unhidden
. She has the Sharur (the magical ax) and Eddie by her side. Alex is recovering from his injuries from the battle and Jason has gone into hiding with Lilly. Zane is still out there and still wants her but yet is driven to kill her by the evil magic seeping through his soul. Emma is experiencing self doubt over her past choices and she is striving to overcome her fears for the future.
No one can be trusted. The Sharur calls to Emma and longs to find that spiritual connection with her. She is resisting. Alone in New York and unsure of her allies, Emma longs for her love for Zane to heal him. She longs for her friendship with Alex to be healed, she wants protection for her friend Jason, and for the evil forces to be sent back to their world forever. Through it all, Emma maintains a witty spirit and a she carries a spark that leaves a smile on your face the entire read.
"I should have been dragging the woman out of the restaurant by that point. She screamed bloody murder at the scene. I couldn't blame her, but God help me, I wanted to slap her and tell her to shut the hell up. Some savior of the human race I was."-Emma
Told in multiple POV
Unraveled
offers up another fresh blend of "comic con" type creatures, fierce action, some sexy heroes, and one bad ass heroine! The characters are well developed and their connections are clearly established throughout the series. There are several secondary characters in this series. I feel that you must be 100 percent invested in order to follow all of the twists and turns in this plot. As the action in the story intensifies, the love story continues to deepen. Emma is obviously meant to be with her first love Zane and yet Alex is able to offer her the comfort and care in her darkest hours. (Not to mention the loyalty and deep friendship she feels for Jason.) My heart broke for these characters as they grappled with finding solace in their situation.
"The fruitless hope that we might be together again was the only thing keeping me connected to the last thread of humanity I had left. I clung to it like a drowning man thrown a life preserver."-Zane
Overall, I would not hesitate to recommend this series to all Paranormal/Sci-Fi fans. This series has vampires, demons, dragons, spirits, elves, and much more. However sexy Emma and Zane are together (or could be together), the romance element is definitely secondary in this series. Although it enhanced the tension in the read, I was sadly disappointed that there wasn't more physical connection between Emma and Zane. I guess we will have to find out what happens in the next installment of the series! The tempo of the writing is steady as the sounds and sites of New York City come to life and battle the mystical creatures of other worlds. You are truly transported to the battle field and immersed into this fantastical mystical world. No doubt the ending left me on pins and needles. My kindle is ready and waiting for more!
~BR with my girl LOYDA!
"ARC kindly provided by Author via Blog Tour, in exchange for an honest review."
****************************************************************