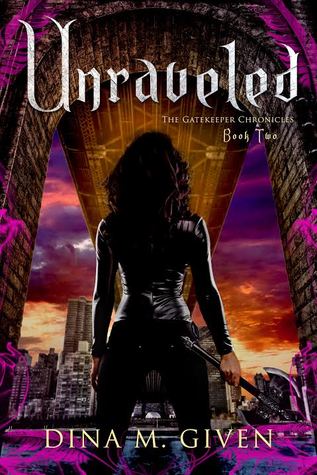 My Rating 4***Mysterious Female Monster Hunter ~ Stars
Title: Unraveled
Author: Dina Given
Genre: Paranormal
Type: Book 2 of The Gatekeeper series
POV: First Person - Multiple

"Hope could change the tides of war and save the souls of men, but for me, it was a poison." Emma
Unraveled continues the madness of Emma Hayes aka Ash. After finding out she is not from Earth but from another world. Ash was able to escape with "Sharur" which we learned why everyone wanted it. It was the AXE that held the power to open up any worlds, it was powerful and it could destroy so much if it landed in the wrong hands. So much happens on this book that had me on the edge of my seat. The suspense, the thrilled was driving me mad. I had so many questions and I felt I couldn't read this book fast enough.
After Emma's memory has been given back to her she still couldn't remember her previews life. She started having nightmares but she knew well that they were memories and it scared her. Finding out she has powers but don't know how to use them yet made her unease she worried her dark side will hurt others. Even thought we don't get to see all her power on this book we do see some and I am so thrilled to see her in action using them. All the new energy she gets from the Axe scared her so much she hides it but then she realized she is not strong enough to fight on her own and she depends on this Axe to help her on this new journey that is her new life.
"The weapon didn't just destroy; it erased. It left behind nothingness, removing its target from the world completely." Emma
Emma starts killing monsters, she starts sensing evil and gets on to killing them she doesn't know why but she only destroys the ones she feels are evil and deserves it but leaves the good ones alive. She finds herself on earth fighting all kinds of creatures some good and some bad. One minute she is resting the next she is fighting for her life, this book is so addicting I just couldn't put it down I had to know what will happen next. How was Emma going to find her step brother Daniel? Would Zane ever turn back to being himself and not the beast he was forced to be? Would Alex want more than just friendship?

I fell in love with Zane from book one and his wildness, coldness, madness drove me insane. He was HOT and scary at the same time but I just couldn't help falling head over heels and madly in love with this badass beast. Zane was still wild trying to fight the beast inside of him while he try to forget about his love Emma aka Ash, but he was still there trying to fight for her even thought the beast inside of him kept telling him to kill her; he just couldn't do it. He had hope for them but at the same time he didn't I was so frustrated.
"I could think of nothing except how much I wanted to rewind time to when we were both young and madly in love, when my mind had been my own." Zane
"Her presence also sparked a new drive within me to keep fighting against the snarling beast inside that wanted nothing more than to break free and tear everyone's throats out." Zane
Alex, wow I loved him so much but the love triangle was making me so anxious it had me on the edge I just couldn't handle it. I loved him but just not like that, for me Zane was it from the beginning and having Alex's showing his feelings on this book just made me feel sad because he deserves his better half and in my heart Emma and Zane are it even thought they were still fighting against each other to survive all their demons. Alex was always there to help Emma and protect her thought and I loved him for that. He betrays her and she was devastated but he had his reasons and even thought I understand them it was hard to swallow. He was trying so hard as well to help his best friend Zane and I admired him so much for it for putting his friendship first over the feelings he had for Emma.
"She could destroy me with a simple rejection, yet I was drawn to her like an insignificant gnat to a black widow's web" Alex

Emma is trying to find answer to her new identity and in the midst of the madness she meets so many new characters, she tries to survive so many times I never knew what was coming next. There was dragons, monsters, shifters, Elves, and all kinds of creatures, powerful gods and not so powerful ones but she finds herself in a complete different situation trying to figure out how to survive this madness and why that was the question why does everyone want her?. After a book full of action and suspense we get some answers at the end. However, I don't get the closure I need about her love story with Zane there's still so much more I want to know and now I have to wait lord know how long for the next book to find out what's going to happen next. They still have a war to fight and another world to save and it's just madness that I can't wait to get my hands on and see how this is going to end. I feel like I just finished watching an episode of Game of Thrones where you are left full of anxiously dying and waiting and craving for more.
"I would avenge the woman who'd had her child stolen from her, who hadn't been able to see that little girl grow up. I will also avenge myself for my lost childhood and never knowing the love of a mother." Emma

"ARC kindly provided by author via blog tour, in exchange for an honest review."
***BR with my girl LIZ***

BOOK ORDER SERIES:
Purchase Links:
Amazon: http://www.amazon.com/Unraveled-Gatek...
Kobo: https://store.kobobooks.com/en-us/ebo...