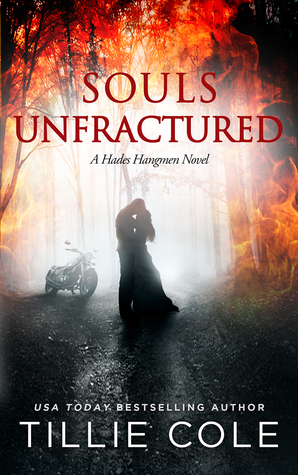 ~5 LOVING Flame and Maddie STARS~
"For fractured souls are like magnets. Drawn to collide into an impossible bliss."
Souls Unfractured is the long awaited third book in the Hades Hangmen. The entire series is centered around three sisters and their escape from a cult. They have found a safe haven in the Hades Hangmen MC! In the previous books, we witnessed Mae and Lilah find happiness with their motorcycle men and now it is time for the youngest sister Maddie to find her piece of happiness.
"The flames never calmed. They forever f*cking burned. But with her...I wanted to grip her tighter. I wanted to hold her closer."-Flame
From the moment that Maddie was rescued from the horrific world of the cult she had her heart and soul bound to one man. FLAME! Flame is a mystery. He keeps to himself and is different from the other men in the club. Flame has demons that cause him great pain. He finds relief for his pain by cutting himself. He is afraid to touch anyone because he believes he is toxic. And yet, somehow Maddie has captured his heart. Even if he doesn't quite now how to express himself, there is one thing he knows, Maddie is his!
"Because she was mine."-Flame
Flame has found solace just being near Maddie. He won't touch her but he can't stay away. Maddie is equally damaged by the atrocities she has faced from her life in the cult. However, being near Flame has given her hope for a better life. Could there ever be a future between the two?
"He was still the man who protected me. He was still the silent shadow that kept me safe."-Maddie
As Flame and Maddie find away to be together their past demons surface. Individually they are both sick and broken souls and yet, together they seem to find a way. It is a painful journey stifled by dirty memories that will cause your heart to ache and your stomach to churn. And yet, the tender moments where peace is discovered will fill your heart to the brim with love. Additionally, for me, the sexy scenes were even more sexy because truthfully the anticipation of these two coming together was so worth the wait! There is a a great deal of love blooming between the two as the plot develops. And when they finally come together, it is explosive and so beautiful. The dual POV really offers the full spectrum of the story and the tempo was consistently steady with dueling moments of intensity and sweet moments of relief.
Overall, I can honestly say everything about this read was captivating! The characters are complex and thoroughly developed by the author. Each individual story line continues to flourish as the books progress. I have been anticipating Flame and Maddie's story from the moment I finished the first book and thankfully Ms. Cole certainly did not disappoint. As par for the course, for me, she delivers every time! I think it's critical to prepare my tenderhearted GR friends. Flame and Maddie's story isn't an easy one to get through. If you like gritty romance stories, then this is the read for you. In order to experience the full arc of the story, you should start by reading the first book! I promise, you will be so glad that you invested in these characters. Thank you Ms. Cole for giving us such a magnificent love story between two broken people. It serves as a reminder that it is never too late to find love.
We are never so broken that we cannot find a way to heal. It is never wrong to be the person you were created to be. We are all worthy of more than we ever wished or hoped for! This is one story I will never forget!
***************************************************************