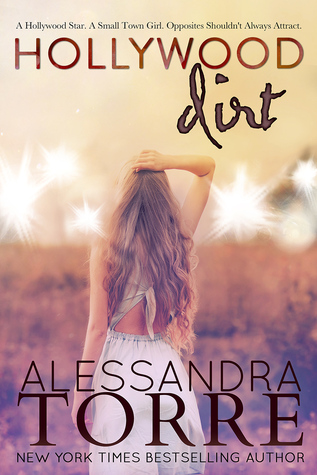 5***Hollywood at its Best ~ when City Boy meets Country ~ Stars
Title: Hollywood Dirt
Author: Alessandra Torre
Type: Standalone
Genre: Contemporary Romance
POV: Shifting - Dual
"What happened between them when they touched…it was nothing like every other woman he'd ever had." Cole
Summer Jenkins, a small town girl at twenty-eight years old; still living with her mother had dreams once upon a time but they all came crashing down one day. Betrayal made her commit revenge, oh sweet ole revenge that cost her for as long as she could remember. Now all her dreams have been washed away stuck in a small town where everyone knows everyone's secrets. She lost all her friends her college dreams and anything she ever wanted was gone in a blink of an eye. Now her focus was to live every day as it was her last with a bit of regret for what she had done but she couldn't chanced anything even if she wanted to. One day an opportunity came knocking at her door. She meets Ben, who she makes a deal with they become great friends. Now she had a new goal get over the deal she made with Ben get her money and leave to wherever she wanted to away from gossipers and people who didn't matter just start a new life even if that meant leaving her mother behind.
"I would not be my mother. I wanted, in some way, to live my life…I wanted to be something different. I wanted to be someone different, someone without scorn, someone without a past. Someone with a future." Summer
Cole Masten ; got lucky at only seventeen years old; Hollywood discovered him and his life haven't been the same since. He was gifted with natural beauty and talent had won three academy awards since he was discovered. Now at thirty-five years old life was good until he finds the love of his life; a wife of five years had been playing him all alone for his fame and money. I didn't like his wife since the beginning of the book it could be the fact that he loved her to death or perhaps I was just jealous of the way Cole loved because let me tell you when he loves he is amazing. He was basically forced to move into Georgia for the movie he was producing and acting. It was his project; his baby and he wanted to be part of every step of the way. However; he ended up going to this small town before his scheduled time and he was not happy about that.
Destiny had other plans for Cole and Summer. Cole lands in Quincy, Georgia without a place to stay; his personal assistant Justin was injured and Cole was off to tend for himself something he hadn't done in so long. Being a Hollywood actor had lots of pros and having someone to do everything for you was one of them. He basically had to learn how to buy a truck, move around, get groceries all on his own it was pretty funny actually. He meets Summer the first day and he loved her stubborn attitude, he couldn't believe that she wasn't affected by his beauty the way the entire world had been he wasn't used to not being the attention. Instead Summer's attention was on his attorney Brad De Luca. Summer was stunned by his beauty of course but she was too suborned to show it and didn't want to give this cocky bastard more ego it was absolutely hilarious.
"He wanted her. In some primal way that didn't make sense." Cole
Their relationship from there was just fantastic because it was a mouse and cat kind of relationship I loved the chase. Cole defiantly took the challenge and never gave up on chasing Summer stubbornness. Even if all they did was constantly fight he wanted to be near her. Cole found Summer's attitude to match the part of the movie he was producing and did everything he could to get her to sign the contract. Summer didn't want the fame or the attention but she wanted the money to make her dreams come true. She accepted his offer and the experience for both during the movie sets were just HOT, SPICY, and
ENTERTAINING
.
"Sex with him was my drug, and the better the high, the more I would crave it when it was gone." Summer
"I want to make you scream my name and come underneath my mouth and taste the moment you fall apart for me."Cole
Secrets came out because let's face it in a small town nothing kept hidden for long, Summer's secret came out and it could of ruined the movie. So many other events had me laughing so much with Summer and her gift to Cole. Summer finding a great friend in Ben and can I say I love the fact of meeting Brad the attorney?? Wow that was an instant change of panties for me. I absolutely loved everything about this story. It was so refreshing, unique, and incredible written. I loved all the characters on this book the plot was just amazing. I would recommend this book to anyone looking for a sweet story and is ok with a Cinderella kind of story.
"ARC Kindly provided by Author, in exchange for an honest review." Thank you so much.