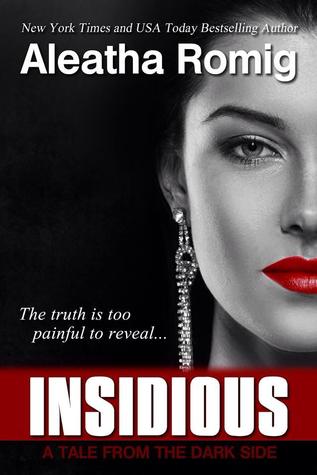 My Rating: 5***CORRUPTING ~ TWISTED & VENGEFUL ~ STARS
Type: Book 1 of Tales From The Dark Side Standalone
POV: First Person - Female
INSIDIOUS
is the story of Victoria Conway at only eighteen years of age she was forced to make a decision that would either make her or break her. She was young and naive who gets caught up in a horrible situation. It was truly a really a bad situation to be in and I felt horrible for her to an extent.
Stewart Harrington; at forty years of age, rich and with power offered Victoria or "Tori" a way out to save her family of a big mess they have gotten into. He was handsome for his age and millionaire which was very appealing. He made Victoria the offer of a lifetime. But as usual nothing good comes without a price.
Victoria grew up in a horrible family environment and her sister was who was keeping her together and alive. However nothing is like it seems. So many secrets unravel on this story. I was on the edge of my seat literally couldn't stop reading this book. I was engorged on this story. It was all fills of crazies I was not expecting but I couldn't seem to stop wanting to know how all this was going to play out.

She accepts Mr. Harrington's offer and instantly becomes the woman everyone wants to be however ten years of misery made her cold and the moment she thinks she is finally free she finds herself with more surprises.
"My days as someone's whore were over."Victoria
Brody works for at the firm as a legal representative for her husband; she finds an allied in him. Oh boy what can I say I fell hard for him even though at some point in this book I just couldn't trust anyone. I was so desperate for answers I was going mad. He was Victoria support and it was just hard not to love him.
Then we get to know Travis much close and personal who worked for Steward for many years. Let's just say I was so conflicted reading this book because I truly enjoy all these characters. I loved him as well; he was strong and straight forward didn't hold back and didn't lie. I still couldn't trust him but I liked him.
Everything about this book was amazing, the suspense, the thrill, and the erotic scenes had me all hot and bothered in so many ways I can't hardly explained. And after reading so many reviews I was what else could possibly shock me? I mean everything Victoria went through was shocking, horrible, and in a way a bit traumatized. I admire her strength and loved her character. But the ending was just genius absolutely unexpected I was in shocked. It leaves the readers with an open window to make up their own ending. This was my very first book by this author and I can assure you it will not be my last.
"With each minute, the blackness inside of me grew and illuminated my cold, dead heart." Victoria
"AUDIO COPY KINDLY PROVIDED TO ME BY PUBLISHER, IN EXCHANGE FOR AN HONEST REVIEW." THANK YOU!